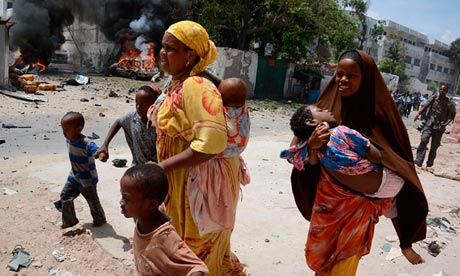 Media workers in Somalia have paid tribute to two human rights lawyers who were among at least 35 people killed in the deadliest Islamist militant attack in years in Mogadishu.
Prof Mohamed Mohamud Afrah, head of the Somali Lawyers Association, and the advocate Abdikarin Hassan Gorod had represented a journalist imprisoned for the "crime" of interviewing an alleged rape victim, a sentence that brought worldwide opprobrium.
Both men died when the extremist group al-Shabaab attacked the symbolic target of the supreme court while it was in session on Sunday. Officials said nine militants carried out the raid and six exploded their suicide vests. A car bomb later detonated near the airport.
The National Union of Somali Journalists (NUSOJ) said Afrah and Gorod would be "remembered for their brilliant role" in defending the journalist Abdiaziz Abdinur Ibrahim, who was eventually released on appeal. He had served two months in prison for talking to Lul Ali Osman Barake about her claim that she was raped by five men in military fatigues.
A journalist, Mohamed Hassan Habeeb, who was a media adviser to the courts and previously worked for Radio Mogadishu, also lost his life in Sunday's attack. He was the third journalist killed in Somalia this year.
Mohamed Ibrahim, secretary general of the NUSOJ, said: "We mourn the loss of our colleague and the human rights advocates. On behalf of Somali journalists, I send my sincere sympathies and condolences to the families, friends and colleagues of our colleagues."
Sunday's attack was the biggest since al-Shabaab, which once controlled almost all of Mogadishu, was forced out of the city by African Union and Somali forces in 2011.
The Somali president, Hassan Sheikh Mohamud, condemned it as "nothing but a sign of desperation by the terrorists". He added: "Somalia is moving and will keep moving forward and will not be prevented [from achieving] a peaceful and stable Somalia by a few desperate terrorists."
African peacekeeping troops blocked off streets and searched houses across the city at dawn on Monday to flush out al-Shabaab suspects. But the group warned of further attacks and taunted the fledgling government. "Yesterday's blasts eliminated the dreams of the puppet government," Sheikh Abdiasis Abu Musab, al-Shabaab's spokesman for military operations, told Reuters. "More lethal attacks are coming."
Abdirashid Hashi, the deputy director of the Mogadishu-based Heritage Institute for Policy Studies, said the attack showed that al-Shabaab could strike the government at will and could come quite close to "decapitating" a vital government arm.
"What happened in downtown Mogadishu will force the government to revisit its priorities," Hashi told the Associated Press. "Because if it fails to provide security to the citizens in the capital, it will have difficulties justifying its demands in extending its writ to other parts of the country."
Hashi noted that Somalia's intelligence agency and foreign governments had predicted a major al-Shabaab attack. Britain's Foreign Office released a statement last Friday saying it believed a terror attack was imminent.